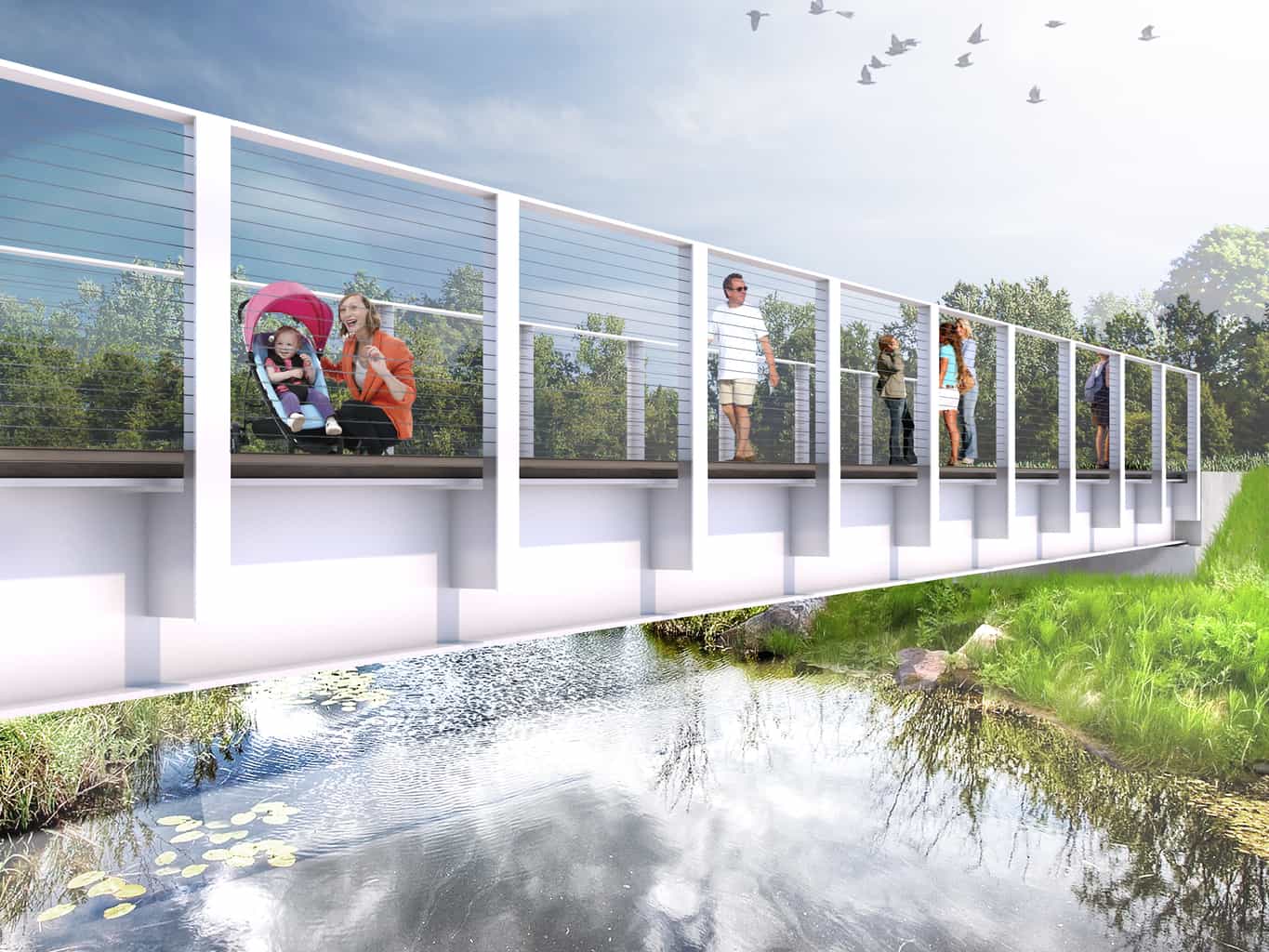 NZ Standard Footbridge Design
The Standard NZ Footbridge Design is a simple and cost effective footbridge solution for use in parks and urban landscapes. The bridge design is a steel beam system supporting timber joist and decking. The footbridge can carry pedestrians and cyclists and allows spans of up to 18m and usable widths up to 3m. It is designed to New Zealand standards by experienced and qualified Chartered Professional Engineers (CEng & CPEng) and respected Bridge Architects from DC Structures Studio. The aim of this footbridge design is to establish a standard pedestrian footbridge design for New Zealand that can be easily implemented into most New Zealand design situations.
The design is intended to help designers who need a simple, cost effective bridge for their overall masterplan but who do not want to commission a bridge engineer or bridge architect in the early stages.

Dan Crocker – DC Structures Studio
In many cases the design can be successfully modified using variations of colour and balustrade type to fit the specific context without further design inputs being required. The drawings are free to download and use.
Basic 18m Pedestrian Bridge Plans for Free Download
Note: The above images are low quality JPEGs for use as a quick example of the set and are not appropriate for project work. If the bridge plans seem suitable for your needs we recommend downloading the full PDFs below.
Access to PDF Download:
To receive the high quality PDF set simply press the download link below:
Examples of bridges created using this set as a starting point.
Laurent Swale Footbridge in Cambridge (NZ) was a good example of a footbridge using the Standard NZ Footbridge as the baseline. In working with Waipa District Council and the Constructor (Spartan Construction) the balustrades were modified, a vibrant colour scheme slected, and the load carrying capacity was increased to discretely carry two large diameter water pipes. More info can be found here: Laurent Swale Footbridge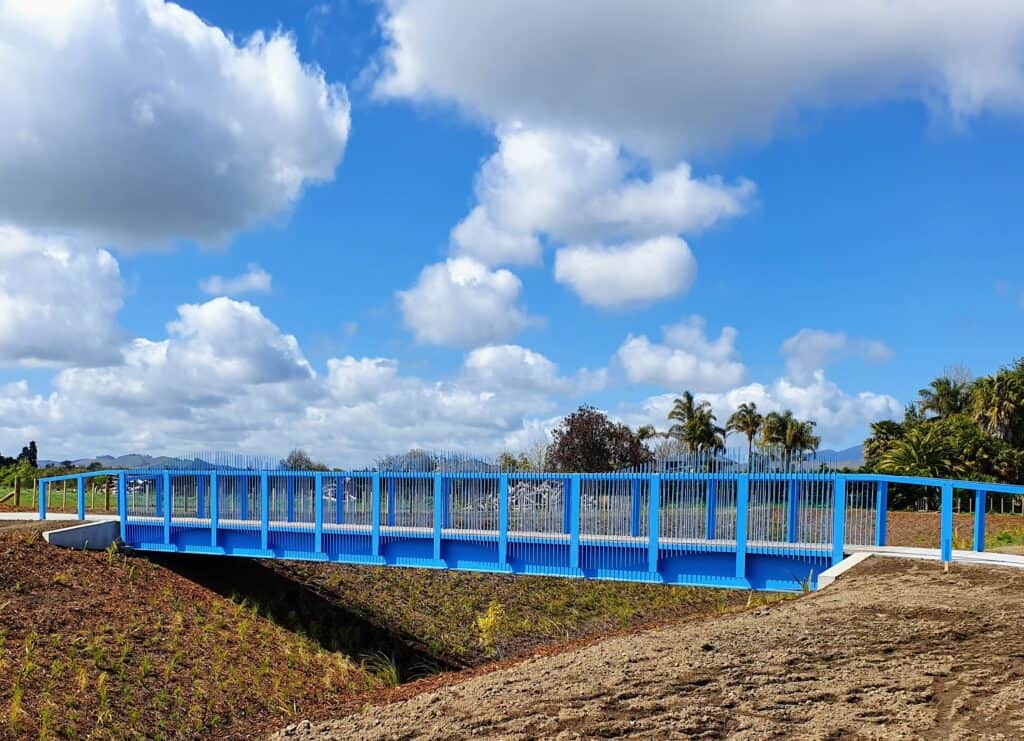 (above) Laurent Swale Footbridge – Cambridge, New Zealand. Steel Footbridge based on NZ Standard Footbridge design.
 3D Visualisations and Modelling.
We have produced 3D visualisations of the bridge in advance to help provide quicker buy-in for your clients and we can also provide the 3D Sketchup 2017 model on request so that it can be added to your existing masterplans.
Why Do We Need a Standard Footbridge Design in NZ?
These designs are intended to be used for concept and feasibility stages of urban and landscape design projects. Landscape designers and councils often ask us if there are any basic bridge designs they can use to begin setting their overall masterplan and capital budgets. Until now the answer has always been "no". As of 2017 none of the local councils in NZ, or the NZ Transport Agency, have standard designs for pedestrian or cycle bridges that are readily available to designers.
In the early stages of a project, councils, developers, and landscape designers want simple and reliable bridge options that fit to, and help set, their overall budgets. Making this design set freely available to all professionals is aimed at encouraging and more easily enhancing public spaces in and around NZ. This set aims to enable landscape architects and urban designers to setup public space masterplans and overall capital budgets that their clients can readily understand and hopefully accept prior to engaging other professionals.
Benefits from using a Standard Bridge Design
We are basically trying to set a "standard" design for small footbridges in NZ by making our standard design and associated drawings free to download and use. The benefit for you is that you and your team can progress concept and planning phases with very little – or in most cases no – input from bridge/structural design professionals until the detailed design phases. Adopting standard bridge designs should help reduce your concept and planning phase costs thus making your team more competitive when delivering or bidding on work. The bridges are also pre-priced so they can serve as a good benchmark when setting your capital works budget for clients. The benefit for us? We think of it as good PR. We believe giving you the simple footbridge designs for free is the easiest way to dazzle you with what we can do. Assuming you are sufficiently impressed, we are on hand to help with any project specific modifications or alternatives you may need.
Colour Flexibility
The steelwork can be finished to a vast array of different colours including most of the Resene and/or Dulux colour palettes. Below are just some examples:
Standard Footbridge Cost
Understanding the likely cost of a bridge is often a critical part of any project. Although your client may want an "iconic" or "architectural" bridge, the first consideration should be "does the project budget actually stretch to include custom design and construction work?". The Standard NZ Footbridge is intended to serve as a simple, cost effective solution. We believe – based on our experience designing numerous footbridges in NZ – that it will be very difficult to deliver a code compliant footbridge, with a 100 year design life, for much less than that shown in the attached plans. If a more prestigious design is sought – which we can help you with – this design will still have significant value for setting a good baseline cost.
The NZ Standard Footbridge has been costed by our main cost estimation partner True-Cost NZ .
The bridge shown in the attached plans is estimated as of April 2017 at $3,800 per square meter (+/- 30%*). This includes allowance for a concrete abutment with piled foundations, structural design, geotechnical design, cost estimate update, and fabrication/erection costs, construction monitoring (this is a full "no surprises" estimate for delivering the bridge).
Examples:
14.4m x 2m wide bridge ≈ NZ$110,000
18m x 2m wide footbridge ≈ NZ$135,000
14.4m x 3m wide footbridge ≈ NZ$165,000
18m x 3m wide footbridge ≈ NZ$205,000
The bridge "construction only" cost is $3,300/ per square meter (excluding consultancy fees).
More info relating to the price can be found in the cost estimate produced by Les Lewer of True Cost NZ:
Les' work is a great example for anyone planning infrastructure works or putting together estimates for local council or NZTA as it has been done to the latest "Business Case" methods which are being rolled out industry wide in NZ. If you need any estimating work or more information relating to the latest Business Case estimating methods we recommend you contact True-Cost NZ!
We accept no liability for the accuracy of the estimate and strongly recommend the estimate is updated/developed once the projects specifics are confirmed (True-Cost can help with that if required).
*The cost of the NZ Standard Footbridge will vary depending upon site conditions, ground conditions, access, and location. Contact us for the specifics relating to the cost estimate assumptions.
Future Updates to the Standard Footbridge Design
We aim to update the design and add additional options throughout 2017 (and beyond!).
Updates currently being considered:
Vertical steel balustrade infill options;
Stainless steel mesh infill;
Timber balustrade options;
Glulaminated timber beam alternative;
Typical substructure options.
Value engineering review (cutting cost or adding value).
After Concept Phases and During Planning Submission
So you have set a masterplan and you have agreed a capital budget using this standard footbridge design… what next? Prior to resource consenting a small geotechnical study will be necessary to confirm the ground conditions, geotechnical design parameters and provide bridge foundation recommendations. This is likely to consist of two borehole tests (one at each abutment location) followed by a small report summarising the ground conditions, geotechnical properties, and substructure recommendations. This study will then be used by your structural engineering design professional during the detailed design phase to design and detail a suitable abutment to support the bridge. The geotechnical foundation recommendations e.g. two 15m long 310UC driven steel piles with a 900D x 600B abutment beam (per abutment) should be added to the resource consent submission.
The bridge beams, decking and balustrades of this design set are pre-designed ready for construction to New Zealand standards as outlined in the New Zealand Building Code (as of January 2017). This approach to the design is intended to save your project time and money. At building consent stage and in accordance with the New Zealand Building Code, a Designer Producer Statement (PS1) for the bridge structure and PS1 for Geotechnical work will be required. Such services can be provided by your existing chartered professional engineering professionals (CPEng) once they have satisfied themselves that the design is compliant. Alternatively, you can contact us at DC Structures Studio Ltd to provide these services.